Here is another coffee sack cushion, made from the same bag as the last one.
Linking up to
Robin's Upcycle Party
at The T-Shirt Diaries.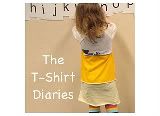 These next two cushions may seem ordinary, but to my friends, they are something special.
Both of them lost their fathers and miss them terribly.
I took a shirt that each of their fathers owned and turned them into cushions. I will be bringing them to their new home tonight, at their house warming party.
Obviously each man had very different style sensibilities :)