Maybe it's because I'm
cheap
frugal, but I am trying to come up with more ideas for the free burlap coffee sacks.
Tonight I decided to make a carry all, lined bag.
I've never made one before and I am a very basic sewer. I followed the directions I found at
Craftastical.com
, and they are excellent. But me, being me, didn't pay enough attention and the lining is the wrong side in (or is that out? ha ha).
Fortunately other than the seams showing, it still looks ok. Besides, who is going to be looking inside my bag? :)
It's nice and roomy and I'm sure I could fit an entire village in there :) Ok, slight exaggeration.
Julie at
Frugal Fabulous Design
took pity
was kind enough to feature
my cushion
at her Fab Friday Blog Party. Thanks Julie
And Laura at House of Thirfty Decor is hosting a party that I am linking up to. Plenty of great projects there.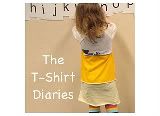 And at
The T-Shirt Diaries Upcycle party